Windproofing with active moisture management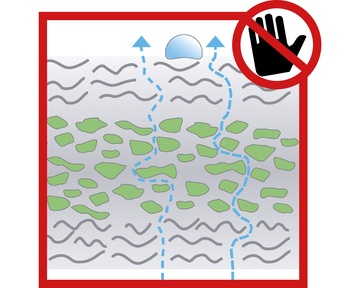 Conventional reliability - micropores
These microporous membranes must transport water vapour through tiny holes to the outside. This moisture transport is a passive process, which only works when a relatively high partial vapour pressure gradient is present.
In modern, highly insulated structures, this is difficult to achieve. Another disadvantage arises when a lot of vapour must escape. This may lead to a moisture film forming on the inside of the membrane. The result is that the membrane becomes denser, the structure does not dry effectively, and damage may occur. If a film of moisture freezes in the winter, a vapour barrier effect may even be created.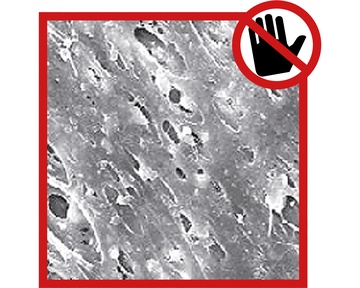 Conventional PP membranes with micropores only protect against water from the outside when the surface tension of the drops makes them too large to pass through the pores of the membrane. However, in of case driving rain or when wood components or solvents lower the surface tension, considerable amounts of water may penetrate the insulation and cause structural damage and foster the growth of mould and mildew.
Magnification of a conventional roof membrane. The PP film is stretched and calcium carbonate is added during production. This creates holes in the material.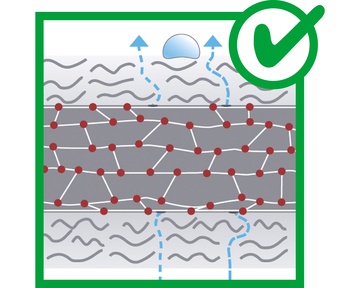 Monolithic SOLITEX membrane
These monolithic membranes transport moisture to the outside - the more moisture is present, the faster the transport speed. Their diffusion resistance decreases. Only a minimal partial vapour pressure gradient is required for the transport.
Maximum protection against driving rain, water column > 2 500 mm
Active moisture transport, minimum vapour partial pressure gradient required
Wet membrane becomes more open to diffusion
No tent effect & can be used as a temporary covering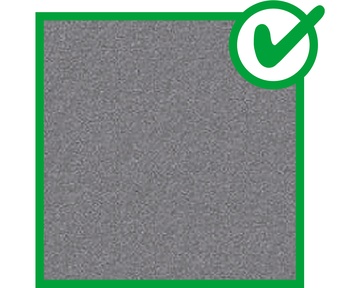 Pore-free membranes provide protection against driving rain in particular. Since their membrane functions without pores, even high impact speeds or reduced surface tension of water droplets are not a problem.

Same microscopic magnification of a monolithic, non-porous SOLITEX membrane.