How it works INTELLO
INTELLO operating principle
Intelligence irrespective of time or season
The variability of the diffusion resistance of the high-performance INTELLO systems guarantees impressive protection against structural damage, even on demanding structures that are impermeable to diffusion to the outside such as steep roofs with sheet metal covering, roof linings with asphalt roof membranes, flat roofs and green roofs. This also holds for locations with very cold climates.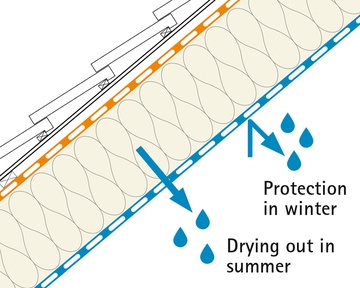 Seasonal intelligence
In winter, INTELLO reduce or stop the penetration of moisture into roofs and walls with their sd-value of over 25 m (or g-value > 125 MN·s/g) (moisture transport of less than 7 g/m² per week).
In summer, the vapour retarders allow water vapour to escape. The sd-value of 0.25 m (or g-value of 1.25 MN·s/g) corresponds to moisture transport of over 500 g/m² per week – which represents an exceptional drying-out capacity!