New-build

house

in

suburban

Tallinn,

Estonia
Pleasant indoor and outdoor environments in tune with nature
This sleek new home was built in the Tallinn district of Pirita, an attractive suburb close to Baltic Sea beaches and harbours.
The house was designed with the dual goals of delivering a pleasant, healthy indoor climate and employing durable, sustainable solutions. The walls are made of MHM nailed/glue-free solid timber elements. System solutions from pro clima have been used in the airtightness and vapour-barrier layer, for the roofing underlays and in ventilated external facades.
The house gets a lot of sunlight: the house is positioned in such a way that the kitchen is flooded with natural morning sunlight, while the evening sun shines into the living room and on the garde terrace. For summer sun protection, blinds are installed on the openings and skylights in the southern-facing facade. The phase shift of all structures is a minimum of 24 h.
The building has geothermal heating, which also pre-heats the incoming ventilation air. There is multi-zone, demand-based forced ventilation with heat recovery, which regulates the air exchange according to the CO2 concentration, relative air humidity and level of VOCs in the indoor air.
Ash wood and natural lime and clay plasters have been used for the interior finishes.
Construction year: 2021-2022
Location: Tallinn, Estonia
Architect: KAMP Architects
Construction type: MHM solid wood, pre-fabricated elements
Builder-manufacturer: EstHus OÜ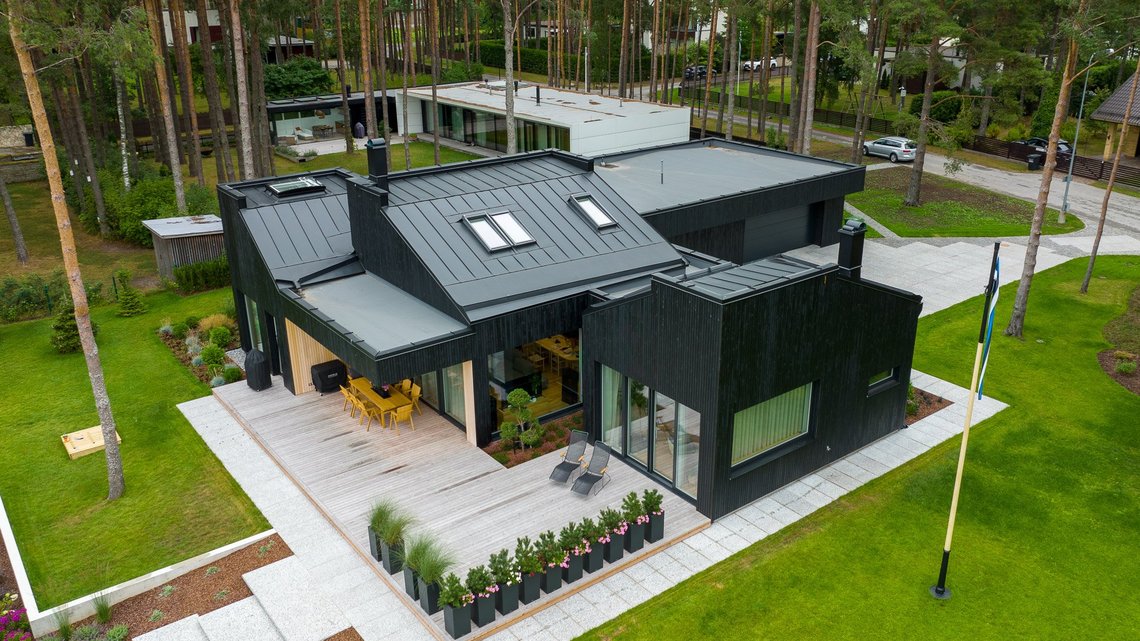 How was this project implemented?
The following pro clima products were used in this project: