Weather protection for timber structures
Weather

protection

concept

during

the

construction

phase
In the past, timber was mainly used on single-family and multi-family homes, but in recent years timber construction has increasingly been employed for major projects such as office and administrative buildings, schools, kindergartens, modular buildings and the large-scale addition of storeys onto multi-storey residential buildings. Thanks to the high degree of pre-fabrication that is possible with timber structures, construction can be carried out efficiently, economically, precisely and to the highest aesthetic requirements – which also includes visible wooden surfaces with high-standard finishes.

And this is where a major challenge arises: timber construction elements have to be protected against moisture over long periods during the construction period.
Cost-effective, reliable protection with SOLITEX ADHERO
The German standard DIN 68800-2:2022-02, "Wood preservation - Part 2: Preventive constructional measures in buildings" stipulates the following: When transporting, storing and installing timber, wood-based products and timber construction components, suitable measures are to be implemented to ensure that their moisture content does not change to an unacceptable extent due to adverse external influences such as soil moisture, precipitation or adjacent building components or due to drying out. [approximate translation]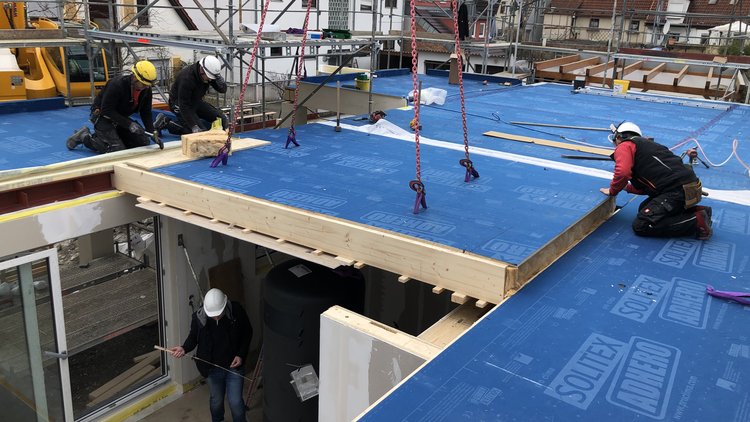 The weathering-protection membranes in the SOLITEX ADHERO series fulfil the requirements of the German DIN 68800 standard, the Swiss SIA 271 standard and of the Technical Information Sheet (Merkblatt Brettsperrholz) 01-2021 on cross-laminated timber from Studiengemeinschaft Holzleimbau e.V., the German Glued Laminated Timber Research Association.
These self-adhesive membranes can be installed on all strong, stable surfaces and have full-surface adhesion with the subsurface. This means that moisture cannot spread out underneath the membrane even if it is damaged during construction. And if the moisture level in the timber should rise, this moisture will quickly dry out again – the diffusion-permeable functional membrane in SOLITEX ADHERO actively transports moisture to the outside. As a result, your building structure remains protected!
USPs of SOLITEX ADHERO
Full-surface adhesive: penetrating water cannot spread out between the membrane and timber component

Dry building components: pore-free, diffusion-open TEEE functional membrane actively transports moisture to the outside, if required

Preparation work is now easier with the new transparent SOLITEX ADHERO VISTO membrane: markings, connectors and penetrations on timber floors remain visible

Excellent values in hazardous substance testing: SOLITEX ADHERO is ideally suited for construction projects with demanding standards with regard to indoor air quality; this is an advantage over temporary sealing membranes made of polymer bitumen

Significantly thinner than bitumen sheeting: walls can be installed directly onto cross-laminated timber floors that have been covered with these membranes without raising the height of the structure or creating problems with measurement tolerances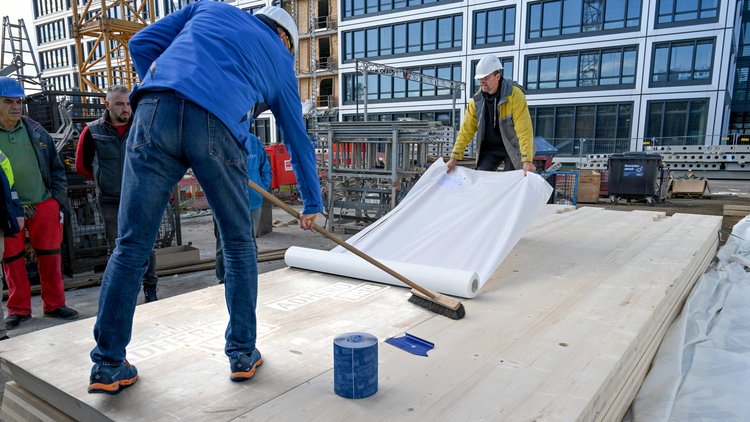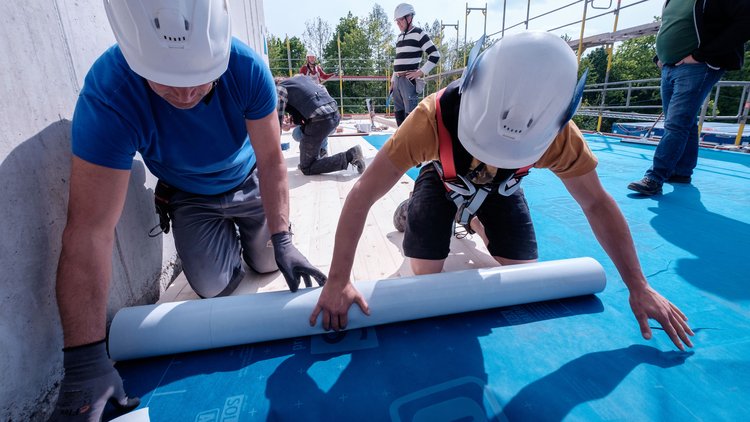 Further advantages:
More cost-effective than temporary roofs: on large building sites, these are often very expensive or else not possible due to the building geometry

No slipping or tripping hazards, unlike with loosely installed sheeting. The membranes are non-slip and glare-free, even in wet conditions.

Good protection against transport moisture if timber construction elements are covered with SOLITEX ADHERO in the workshop

Glare-free working thanks to non-reflecting surface

Self-sealing at nail or screw connections

Self-contained system offers maximum protection
Use on floors, roofs and walls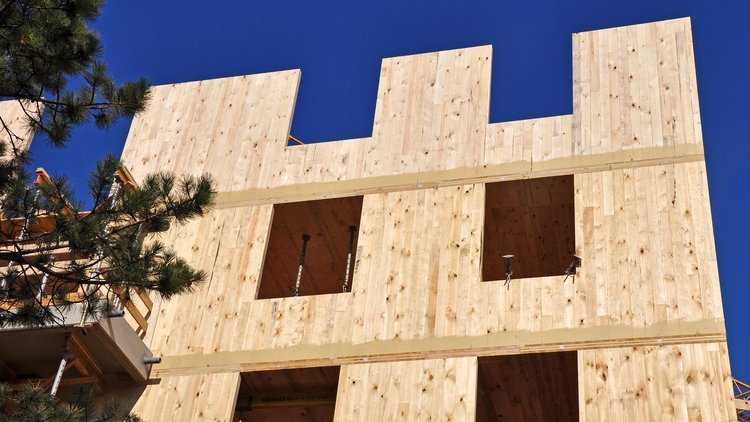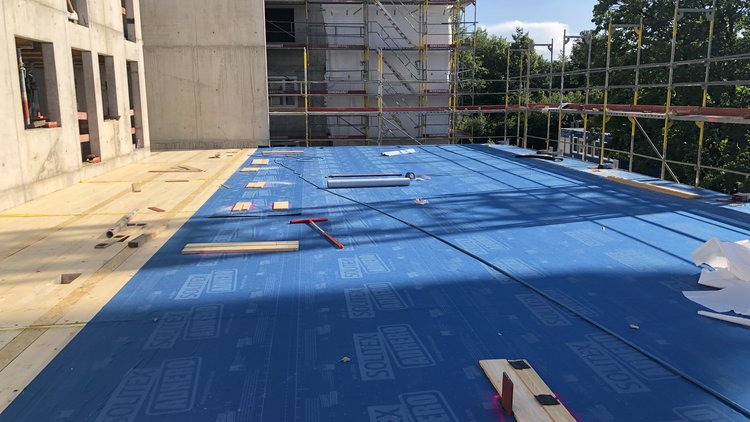 Reliable protection as part of a complete system
Reference projects featuring SOLITEX ADHERO