Light-weight roof underlay, with self-adhesive zones
Variant without self-adhesive zones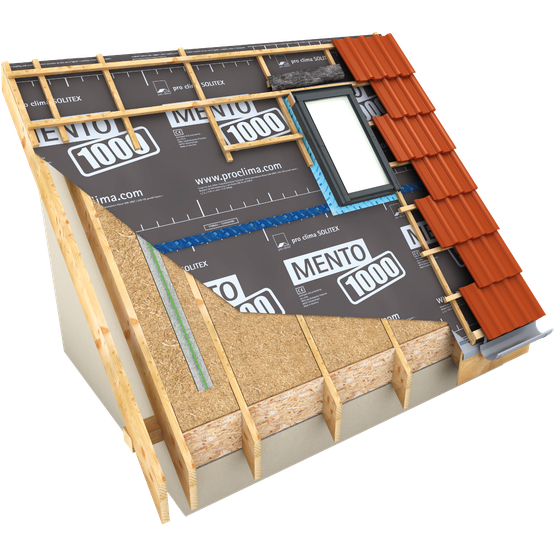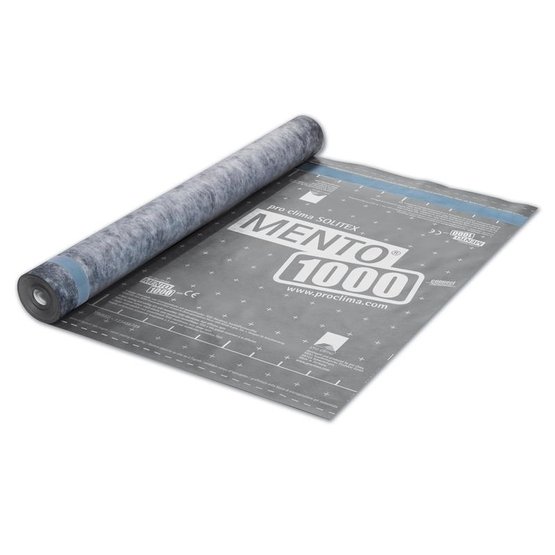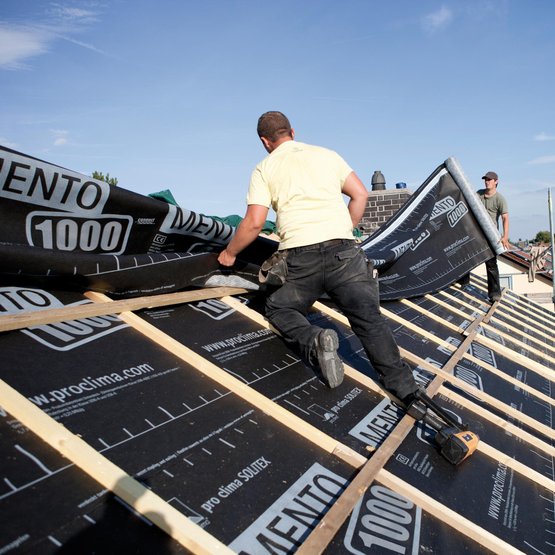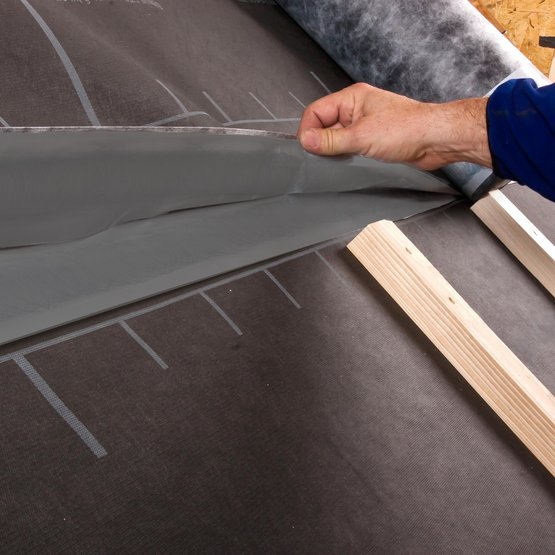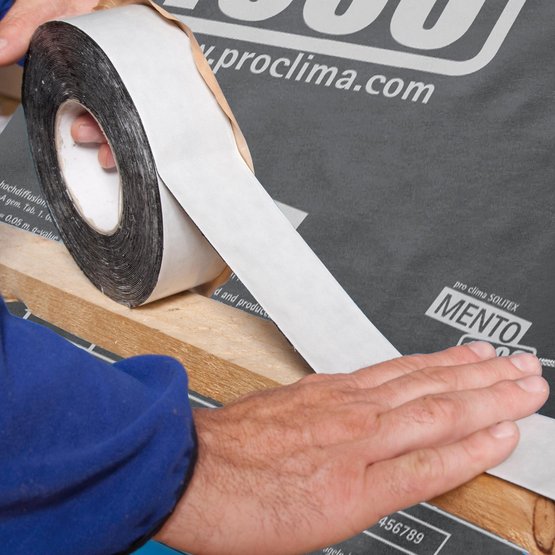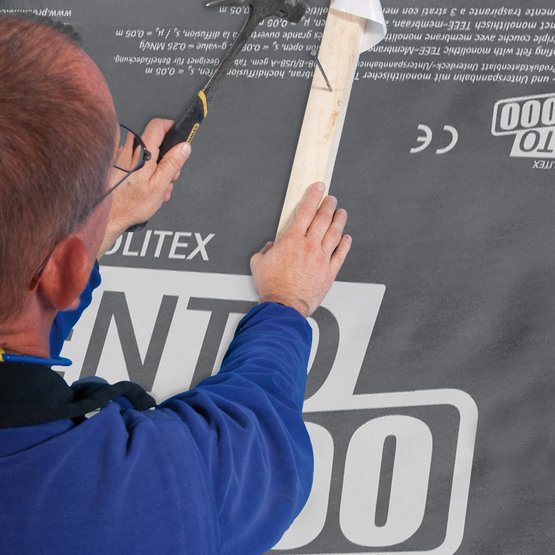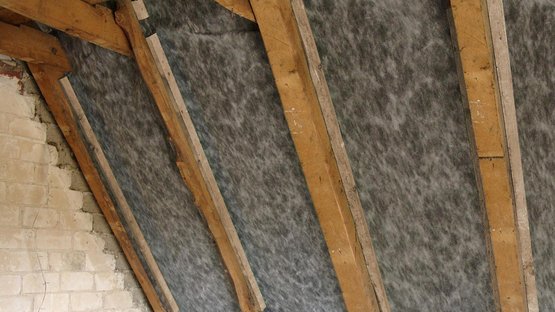 Advantages
Up to 3 months of outdoor exposure
Ensures reliable building components: highly diffusion-open and maximum protection against driving rain
Dry building components: pore-free TEEE functional membrane actively transports moisture to the outside
Permanent protection thanks to the high resistance to ageing and heat of the TEEE membrane
Reliable during the construction phase: suitable as a temporary covering during the construction period
Quick and reliable adhesion thanks to the integrated 'connect' self-adhesive zones on the long edges of the membrane
Areas of application
For use as permeable roof underlay on roof decking, MDF and wood fibre underlay panels, and on all mat or panel-shaped thermal insulation materials.
Planning and construction guidelines
Areas of application
The membranes in the SOLITEX MENTO series and SOLITEX UD and SOLITEX PLUS can be used as underlay and sarking membranes and as temporary coverings. They stop cold external air from flowing through the building structure and ensure that the thermal insulation works in an optimal manner.
For ventilated steep roofs – see applicable national regulations for permissible roof pitches
Freely hanging or else installed directly onto even subsurfaces such as all mat or panel-shaped thermal insulation materials, wood-based panels or solid-wood boarding, for example
Suitable as a temporary covering during the construction phase in accordance with the applicable national regulations
If blown-in insulation materials are used, use of a reinforced SOLITEX roof underlay is recommended
Use as a temporary covering
SOLITEX MENTO membranes can be used as temporary covering for up to 6 months to protect the building structure during the construction phase. The minimum pitch for the use of SOLITEX MENTO membranes is stipulated by national regulations in certain cases. For further information, please contact the pro clima partner in the country where the membranes are to be used. System adhesive tapes and adhesives should be used to stick overlaps and joints.
The 'connect' variants have two self-adhesive zones for reliable exterior sealing.
Dark marks may form on the membrane as a result of rainwater. These have no influence on the high level of watertightness and the effectiveness of the interior membrane.
Retrofitting roof lining
If there was previously no roof underlay, SOLITEX roof underlays can be retrofitted from the inside. Roof structures without underlay and thus without a counter-batten plane are often encountered on existing buildings. If insulation is to be fitted on these structures, it is recommended to first retrofit an exterior insulation-protection layer to improve the reliability of the structure.
No rear ventilation of the insulation layer is necessary
Membranes (sarking membranes, underlay membranes or decking membranes) make rear ventilation of thermal insulation materials unnecessary. pro clima SOLITEX underlay membranes can be applied directly onto the thermal insulation in all cases, i.e. the insulation material can fill the full depth of the rafters.
In the case of non-insulated attics, it is advantageous to provide hip and ridge ventilation in order to ventilate the attic space. Complicated and frequently ineffective ventilation features on the eaves, ridge, valley, hip and roof fittings are thus not necessary.
Increased indoor humidity
These highly permeable membranes allow moisture to dry out of the structure to the outside more easily and more quickly. This is advantageous both during the construction phase and during normal use (if moisture contained in the indoor air penetrates into the structure by diffusion or convection).
As a rule, moisture that arises due to construction work should be able to escape the building structure quickly by ventilation through open windows. Dryers can help to speed up the drying process in wintertime. This helps to avoid permanently high levels of relative humidity.
No 'tent effect'
Pore-free SOLITEX membranes offer particularly good seal tightness against driving rain. These membranes can be applied onto the surface of insulation materials or roof decking. A tent effect is reliably prevented by the monolithic functional film and the multi-layer structure. The term 'tent effect' describes the phenomenon whereby waterproof tent sheets allow large amounts of moisture into tents at points where they are in contact with inside objects.
Rainproof underlays
These membranes may be used as temporary coverings and additional rain-protection measures, in accordance with the locally applicable regulations.
Approval and composition
The special membranes in the SOLITEX MENTO family are made of a thermoplastic elastomer ether-ester; the protective and covering fleeces are made of polypropylene.
All SOLITEX MENTO membranes have been tested in accordance with the requirements of EN 13859-1.
They have the CE label.
Technical support
If you have questions on applications, please contact pro clima Technical Support .
---
---