Vapour check membrane for external insulation
connect variant with self-adhesive zones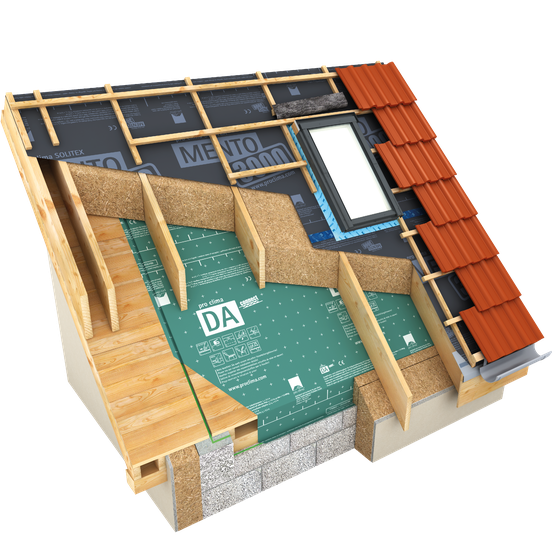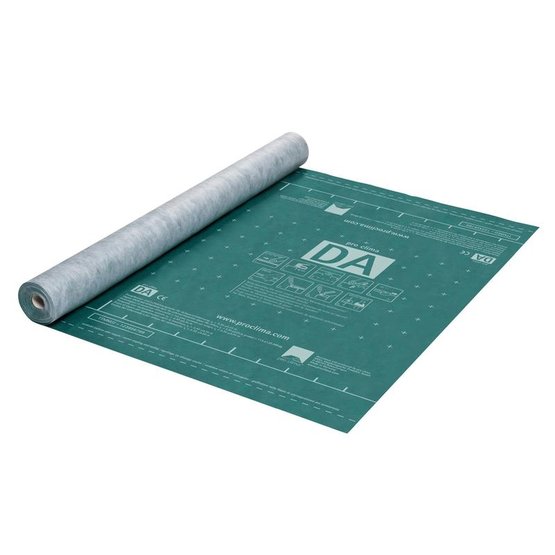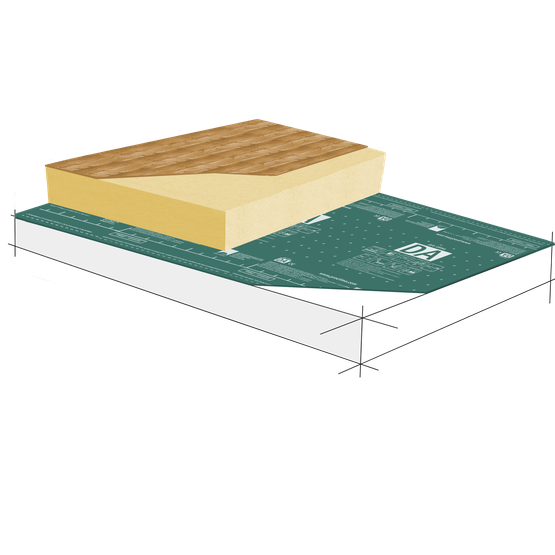 Advantages
Protects building structures against weathering during the construction phase for roof pitches of 10° (2.1:12) and higher
Water-resistant and waterproof, can be walked on
Acts as a vapour check and airtight layer simultaneously
Excellent values in hazardous substance testing, has been tested according to the ISO 16000 evaluation scheme
Areas of application
For use as a vapour check and airtight membrane on roof decking underneath suitable external roof insulation made of all insulation materials on structures that are open to diffusion on the exterior (roofing underlay with SOLITEX MENTO 3000, for example).
Planning and construction guidelines
Areas of application
pro clima DA, which can be temporarily subjected to outdoor exposure, can be used:
On roof decking, underneath over-rafter insulation
As a membrane that can be walked on, such as underneath insulation layers in indoor areas – e.g. on the floor of a cold attic
On residential buildings or buildings with residential-like use in all rooms such as living rooms, bedrooms, kitchens and bathrooms
On structures that are open to diffusion on the outside
3 months of outdoor exposure
pro clima DA can be subjected to outdoor exposure for up to 3 months to protect the building structure. The minimum roof pitch for outdoor exposure is 10° (2.1:12).
Please note that DA (connect) does not provide sealing that is equivalent to an emergency roof. Moisture can enter at staples or other perforations (nails, screws etc.). Additional covering with tarpaulins is recommended for buildings that people are living in or that are particularly worthy of protection.
Possible combinations
Optimal protection for building structures can be achieved using the DA system for the following combinations:
External roof insulation with fibrous or foam insulation materials
Roofing underlay membranes that are diffusion-open to the outside (e.g. those in the SOLITEX MENTO or SOLITEX WELDANO series), even if installed over cladding
Wood fibre or MDF underlay panels
In certain cases, structures must fulfil the requirements with regard to moisture protection for exemption from proof of performance as per the relevant standard or must be modelled using a suitable calculation method (e.g. Glaser method, time-dependent calculation methods).
Use on structures that are open to diffusion on the outside
pro clima DA can be used with all commonly available diffusion-open roofing underlays. Excellent protection against moisture damage to structures can be achieved using the pro clima INTELLO X system in the case of structures that are impermeable to diffusion to the outside – such as bitumen felt on cladding or metal, flat or green roof structures.
Quality assurance
In the case of membrane installation on the exterior, efficient quality assurance can be carried out during the course of construction by means of differential pressure testing with overpressure and artificial fog. As part of this testing, fog is generated inside the building using a fog machine. In this way, the airtightness of detail features can be checked and rectified on the exterior. The membranes must be mechanically secured to a sufficient extent beforehand. For this reason, adhesive taping and joints are to be implemented with particular care.
Detailed construction planning – particularly of joints at the eaves and gable ends and the implementation of these joints on roof refurbishment projects – is particularly important. In Germany, this quality assurance during the course of construction is no substitute for final testing of airtightness in accordance with the German Building Energy Act (GebäudeEnergieGesetz, GEG) or the requirements of the German Reconstruction Loan Corporation (KfW) regarding the determination of the air change rate (n50 value).
---
---