Planning notes INTELLO
Planning notes
To ex­ploit the best pos­sible po­ten­tial free­dom from struc­tur­al dam­age of IN­TELLO and IN­TELLO PLUS, please ob­serve the fol­low­ing points when plan­ning and im­ple­ment­ing your va­pour re­tard­ing and air­tight­ness pro­jects.
Use of fibrous insulation materials
The high degree of protection against structural damage offered by humidity-variable vapour retarders is achieved by using fibrous thermal insulation materials that are open to diffusion, as the moisture must be able to diffuse through to the vapour retarder for the purpose of drying during the summer climate. Fibrous thermal insulation materials such as cellulose, flax, hemp, wood fibre and rock or mineral wool are ideal here.
Can also be used for diffusion-impermeable roof linings
The pro clima INTELLO system can be used with all commonly available diffusion-permeable underlays and diffusion-impermeable roof linings.
Underlays made of wood fibreboards are advantageous from an energy viewpoint.
According to DIN 68800-2, chemical wood preservation is not required if the upper covering of a building structure has an sd-value ≤ 0.3 m (or g-value ≤ 1.50 MN·s/g, perm rate ≥ 11 US perms).
This statement also applies for installation on dry solid-wood planking. In these components, there is no need to use chemical wood preservation in combination with the highly diffusion-permeable SOLITEX membranes.
Reliable protection with open interior cladding
For humidity-variable vapour retarders to be fully effective, there should be no diffusion-retarding layers such as OSB or plywood panels on the inside of the thermal insulation.
Cladding such as plasterboard or wooden boards is suitable here.
If no interior cladding is planned, the membrane must be protected against the long-term effects of sunlight. In areas such as under the roof pitch,pro clima INTESANA can be used as an alternative on surfaces that are not exposed to direct sunlight if no other interior cladding is foreseen. This product has increased UV protection and offers a high level of protection against mechanical damage.
Correct work process provides protection against condensation
The ideal time for installation is two weeks after the adjacent walls have been plastered. Check the moisture content of the wooden structure before insulating and sealing. Alternatively, installation is also possible before plastering is carried out.
To avoid condensation formation, the vapour retarder and airtightness layer should then be completed immediately after the installation of mat or panel-shaped insulation materials.
Blown-in insulation should be inserted immediately after airtight sticking of the membrane. If necessary, carry out this work gradually in steps. This applies particularly to work carried out in winter. Ventilate any increased relative humidity quickly and systematically.
Moisture due to normal use
The diffusion resistance of INTELLO has been chosen to ensure that there is a reliable vapour-retarding effect even in the case of high indoor humidity, which can occur in new buildings as a result of construction work or during short-term increases in relative humidity in bathrooms or kitchens, for example. As a rule, moisture due to construction work must be able to escape the building quickly by ventilation through open windows. Dehumidifiers can help to speed up the drying process in wintertime. This helps to avoid permanently high levels of relative humidity.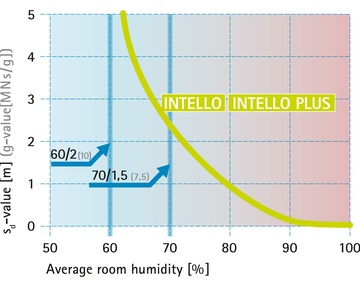 The 60/2 rule
respectively 60/10 rule - us­ing the g-value
or: 60/1.64 rule - using water vapor permeance
---
There is increased humidity in new buildings, kitchens and bathrooms. The diffusion resistance of a vapour retarder should be selected in such a way that a
diffusion resistance (sd-value) of at least 2 m
diffusion resistance (g-value) of at least 10 MN·s/g

diffusion per­meab­il­ity (perm rate) of at most 1.64 US perms
is achieved even at 60 % average relative humidity. The structure will then be sufficiently protected against the entry of moisture from the indoor air and against mould formation.
INTELLO and INTELLO PLUS have a sd-value of approx. 4 m, a g-value of approx. 20 MN·s/g
and a perm rate of approx. 0.82 US perms at 60 % r.h.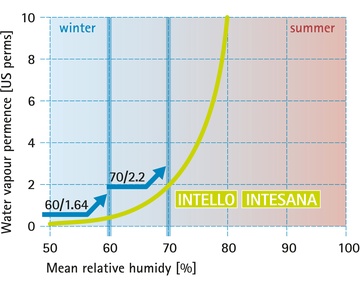 The 70/1.5 rule
respectively 70/7.5 rule - us­ing the g-value
or: 70/2.2 rule - using water vapor permeance
---
There is very high humidity in buildings during the construction phase when walls are being plastered or screed is being laid. The diffusion resistance of a vapour retarder should be greater than 1.5 m (sd-value) or 7.5 MN·s/g (g-value), resp. lower than 2.19 US perms (perm rate) at 70 % average relative humidity in order to protect the structure against excess entry of moisture from the building site climate and against mould formation. A high degree of protection against moisture is particularly necessary when there are wood-based panels on the outside of the building structure.
INTELLO and INTELLO PLUS have an sd-value of 2 m, an g-value of 10 MN·s/g
and a perm rate of approx. 1.64 US perms at 70 % relative humidity.
Quality assurance
Airtightness is the critical factor in protecting the thermal insulation structure against damage. pro clima recommends that the airtightness layer be checked for leaks and that any leaks be located and rectified using pro clima WINCON or a blower door test, for example.