Medium-weight, full-surface adhesive, diffusion-open airtightness and weathering-protection membrane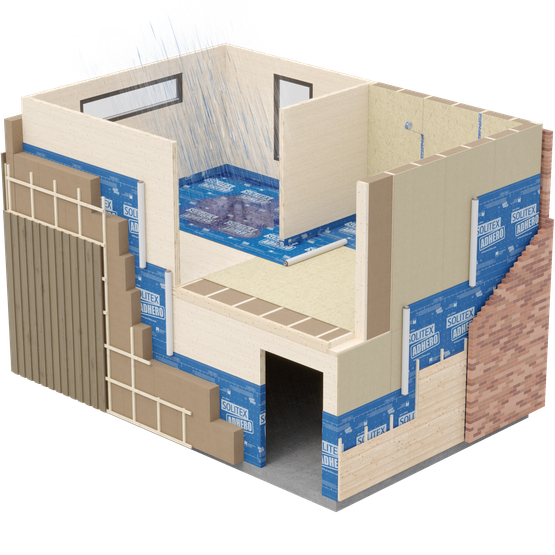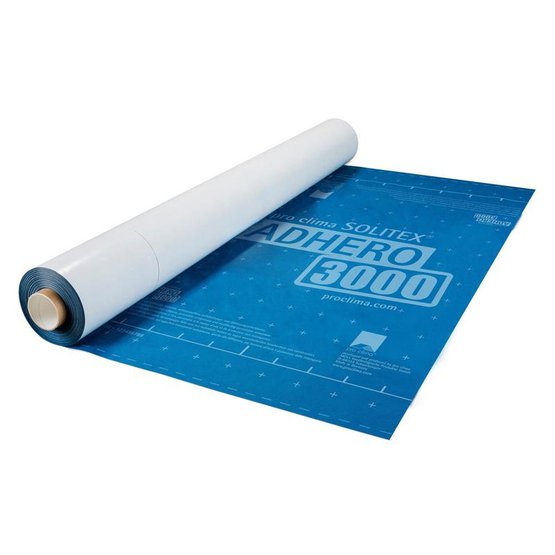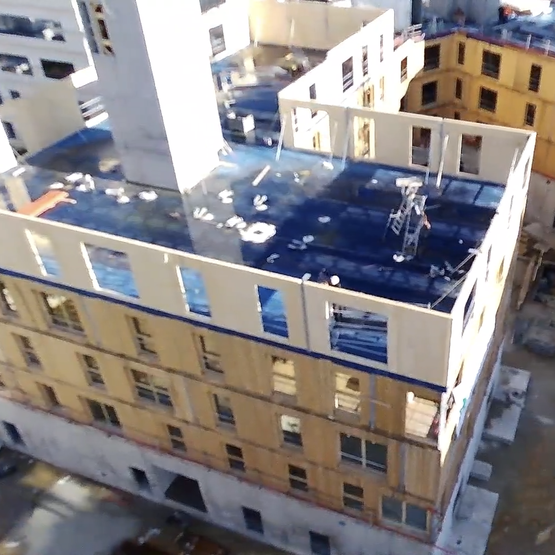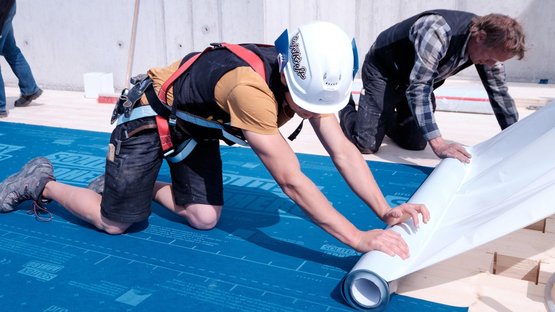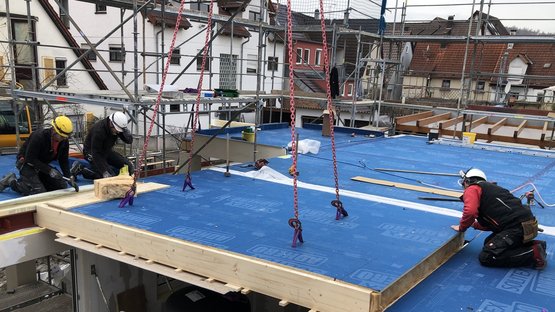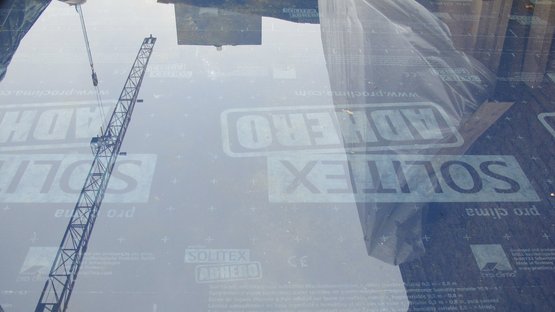 Advantages
Protects the structure: diffusion-open and maximum protection against driving rain and hail
Up to 4 weeks of outdoor exposure when protecting floors during construction
Flexible planning of construction schedules: outdoor exposure for pitched roofs with a roof pitch of greater than 14° (3:12): 4 months, walls: 5 months
Keeps building components dry by means of a pore-free moisture-active functional membrane
Easy and reliable installation thanks to its split release film – sticks immediately to subsurfaces that have sufficient stability
Reliable sticking of membrane overlaps thanks to water-resistant SOLID adhesive
Permanent protection thanks to the high resistance to ageing and heat of the TEEE membrane
Areas of application
Temporary protection for floors during construction
Thanks to its full-surface adhesion, this membrane provides temporary protection for intermediate floors/ceilings on multi-storey CLT (cross-laminated timber) or wooden-frame buildings during the construction period.
Pitched roofs and walls
Allows airtightness to be achieved on wood-based products and mineral subsurfaces – e.g. on the exterior side of unplastered (fair-faced) masonry or concrete components with joints. For roofs, it also fulfils the requirements of the Central Association of the German Roofing Trade (ZVDH) for a roofing underlay and for temporary coverings for the specified time period.
Split of the release film
| Membrane width | Split (approx.) |
| --- | --- |
| 0.5 m (19 3/4") | No split |
| 1 m (39 1/2") | 0.25 | 0.75 m (10" | 29 1/2") |
| 1.5 m (59") | 0.25 | 1.25 m (10" | 49") |
Planning and construction guidelines
Areas of application
The pro clima SOLITEX ADHERO 1000 and 3000 self-adhesive and airtight weathering-protection membranes can be used:
for temporary protection of wall elements and intermediate floors/ceilings during construction on multi-storey timber-element buildings
to achieve airtightness on the interior and exterior of wood-based products and mineral subsurfaces
on the exterior side of wooden-frame walls behind ventilated pre-wall shells
as a nail-sealing pre-underlay on roof decking and suitable wood-based panels (e.g. cement-bonded particleboard in accordance with EN 634-1) underneath slate coverings
Use as temporary protection on timber element structures during construction
SOLITEX ADHERO membranes can be used as temporary protection for floors/ceilings on multi-storey timber construction projects.
Run-offs that remove water from the intermediate floor/ceiling and/or building are to be provided so that rainwater does not accumulate on the membrane. Full-surface adhesion prevents moisture from spreading underneath the membrane if the membrane should be damaged during the course of construction.
At element joints and/or joints with wood-based panels, at least 15 cm (6") of SOLITEX ADHERO should be provided as an overlap onto the adjacent element/wood-based panel. Timber (or derived timber material) surfaces that may have become damp can quickly dry out again thanks to the low diffusion resistance of this membrane.
Use to achieve airtightness of walls on timber structures
The pro clima SOLITEX ADHERO system can be used to achieve airtightness on timber-element walls (wooden-frame, 'Brettstapel' and CLT elements) on the inside and outside. In the case of membranes applied on the exterior in particular, it should be ensured that the airtightness layer of the walls is bonded to the airtightness layers of the roof surfaces. For installation on the exterior, these products additionally provide weathering protection during the construction phase. Full-surface adhesion with the relevant subsurface also ensures that seepage underneath the membranes cannot occur.
Use to achieve airtightness of walls on masonry and concrete structures
Unplastered masonry and concrete walls, e.g. made from pre-fabricated components, are regarded as not being airtight due to their joints. SOLITEX ADHERO 1000 and 3000 can be stuck directly onto the exterior of stable mineral subsurfaces. Adjacent airtight building components also have to be stuck to one of these membranes in the area around joints to ensure the airtightness of the surface.
Use for the protection of timber structures behind pre-wall shells
After driving rain has fallen on a pre-wall shell (e.g. faced masonry), heating up can result in a microclimate with increased relative air humidities. To prevent this moisture entering into the component, DIN 68800-2 recommends that a membrane with a slightly increased diffusion resistance should be fitted on the exterior of wooden-frame construction elements. The SOLITEX ADHERO membranes have an sd value of at least 0.25 m (g value: > 1.25 MN·s/g or < 13 US perms) for this purpose, which protects the component from the outside and also allows for drying out. These membranes can be stuck directly onto stable subsurfaces. Pre-treatment with TESCON PRIMER RP may improve adhesion to subsurfaces.
Rainproof roofing underlays
These membranes may be used as temporary coverings and additional rain-protection measures, in accordance with the locally applicable regulations.
Use as a nail-sealing overlay underneath slate coverings
Thanks to their full-surface adhesion, both SOLITEX ADHERO membranes seal nailholes in suitable wood-based panels (e.g. cement-bonded particleboard in accordance with EN 634-1) or solid-wood boarding, thus ensuring better protection for building components. It should be taken into account here that the sealing function is ensured when nails are hammered into the timber or timber material subsurface. This protection is not guaranteed in the case of nail holes at joints.
Moisture in materials due to construction work
The low sd (g) values (or high perm values) of SOLITEX ADHERO allow moisture to dry out of the construction materials that are used. If this drying takes place too quickly (e.g. due to heating), bubbles may form behind the membranes due to the water vapour that results. The performance of the membrane as an airtight layer and/or as weathering protection is not compromised by this, provided that these bubbles do not open up membrane overlaps.
Quality assurance
In contrast with the case of membrane installation on the interior, quality checking using the differential pressure procedure (e.g. with a blower door test) is only possible with overpressure for membrane installation on the exterior. In this case, fog must be generated in the interior of the building using a fog machine. The airtightness of detail features can then be checked on the exterior.
No 'tent effect'
Pore-free SOLITEX ADHERO membranes offer particularly good seal tightness against driving rain. These membranes can be applied over the surface of insulation materials or roof decking. A tent effect is reliably prevented by the monolithic functional film and the multi-layer structure. The term 'tent effect' describes the phenomenon whereby water-resistant tent sheets allow large amounts of moisture into tents at points where they are in contact with inside objects.
---
---
Building projects with SOLITEX ADHERO