Medium-weight, full-surface adhesive, diffusion-open airtightness and weathering-protection membrane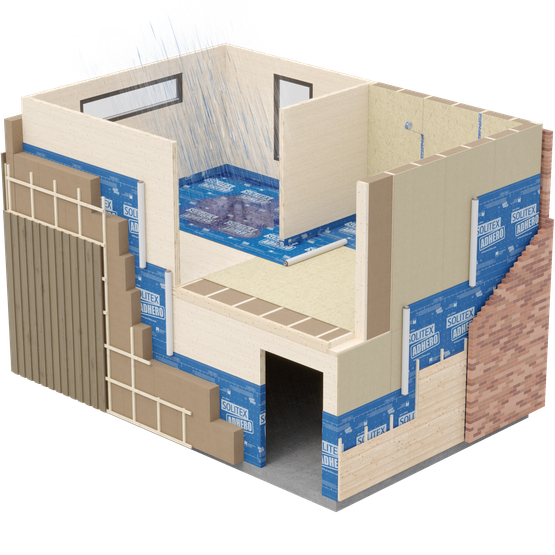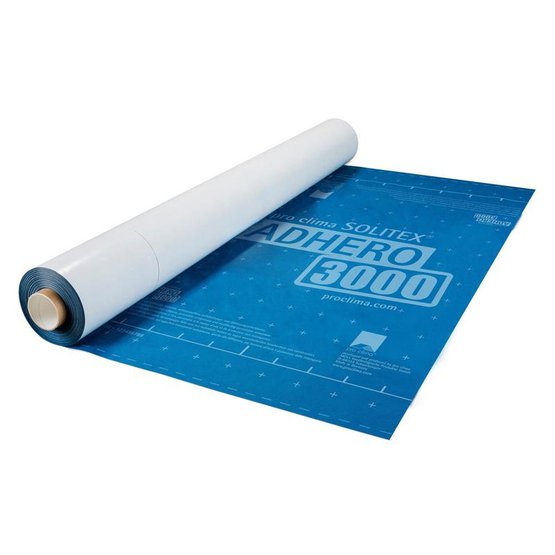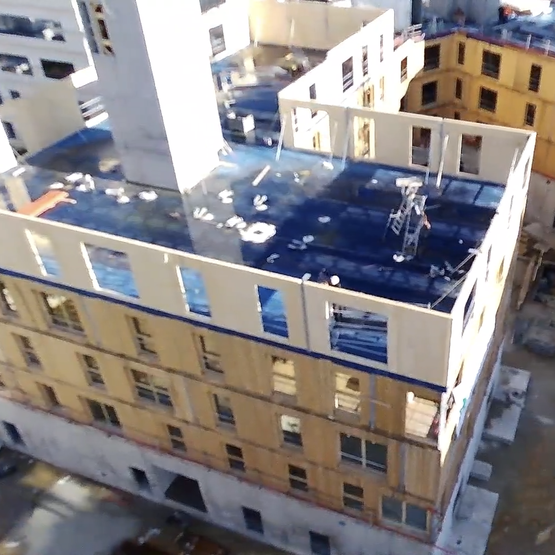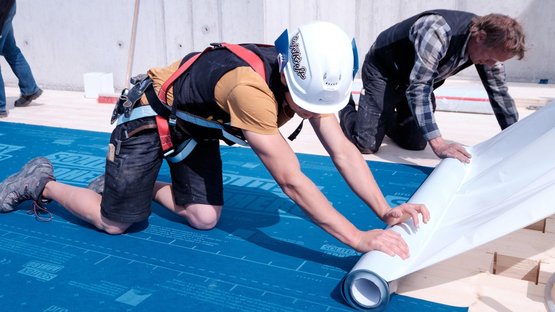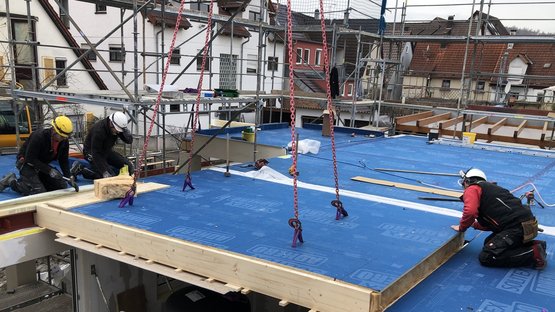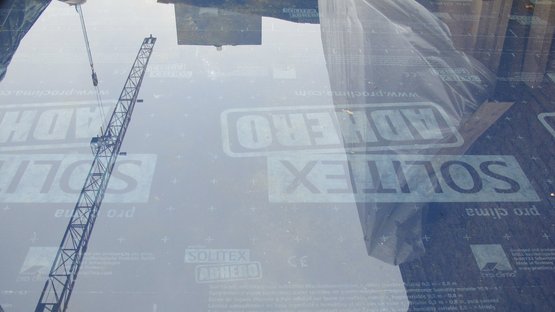 Advantages
Protects the structure: diffusion-open and maximum protection against driving rain and hail
Up to 4 weeks of outdoor exposure when protecting floors during construction
Flexible planning of construction schedules: outdoor exposure for pitched roofs with a roof pitch of greater than 14° (3:12): 4 months, walls: 5 months
Keeps building components dry by means of a pore-free moisture-active functional membrane
Easy and reliable installation thanks to its split release film – sticks immediately to subsurfaces that have sufficient stability
Reliable sticking of membrane overlaps thanks to water-resistant SOLID adhesive
Permanent protection thanks to the high resistance to ageing and heat of the TEEE membrane
Areas of application
Temporary protection for floors during construction
Thanks to its full-surface adhesion, this membrane provides temporary protection for intermediate floors/ceilings on multi-storey CLT (cross-laminated timber) or wooden-frame buildings during the construction period.
Pitched roofs and walls
Allows airtightness to be achieved on wood-based products and mineral subsurfaces – e.g. on the exterior side of unplastered (fair-faced) masonry or concrete components with joints. For roofs, it also fulfils the requirements of the Central Association of the German Roofing Trade (ZVDH) for a roofing underlay and for temporary coverings for the specified time period.
Split of the release film
| Membrane width | Split (approx.) |
| --- | --- |
| 0.5 m (19 3/4") | No split |
| 1 m (39 1/2") | 0.25 | 0.75 m (10" | 29 1/2") |
| 1.5 m (59") | 0.25 | 1.25 m (10" | 49") |
Technical specs
Material
Protective and covering fleece
Polypropylene microfibre
Membrane
Monolithic TEEE
Adhesive
Water-resistant SOLID adhesive
Release film
Silicone-coated PE film
Property
Regulation
Value
Regulation
Colour
dark blue
Surface weight
EN 1849-2
240 g/m² ; 0.79 oz/ft²
EN 1849-2
Thickness
EN 1849-2
0.70 mm ; 28 mils
EN 1849-2
Water vapour resistance factor µ
EN ISO 12572
570
EN ISO 12572
sd value
EN ISO 12572
0.40 m
EN ISO 12572
sd value, humidity variable
EN ISO 12572
0.3 - 0.8 m
EN ISO 12572
g value
2.0 MN·s/g
g value, humidity variable
1.5 - 4 MN·s/g
Vapour permeance
ASTM E96
8,2 perms
ASTM E96
Vapour permeance, humidity variable
EN ISO 12572
4.1 - 11 perms
EN ISO 12572
Fire rating
EN 13501-1
C - s1,d0
EN 13501-1
Outdoor exposure for pitched roofs with pitch ≥14° (≥3:12)
4 months
Outdoor exposure walls
5 months
Outdoor exposure protection for floor during construction
28 days
Hail impact resistance class (Switz.)
VKF / AEAI
HR 5 / watertightness test passed
VKF / AEAI
Roofing underlay membrane
ZVDH Produktdatenblatt
UDB-A
ZVDH Produktdatenblatt
Temporary roof covering; suitable as ...
ZVDH
yes
ZVDH
Water column
EN ISO 811
10 000 mm ; 32' 10"
EN ISO 811
Watertightness, non-aged/aged*
EN 1928
W1 / W1
EN 1928
Airtightness
passed
Tensile strength MD/CD
EN 13859-1 (A) / -2 (A)
250 N/5 cm / 200 N/5 cm ; 29 lb/in / 23 lb/in
EN 13859-1 (A) / -2 (A)
Tensile strength MD/CD, aged*
EN 13859-1 (A) / -2 (A)
190 N/5 cm / 160 N/5 cm ; 22 lb/in / 18 lb/in
EN 13859-1 (A) / -2 (A)
Elongation MD/CD
EN 13859-1 (A) / -2 (A)
70 % / 70 %
EN 13859-1 (A) / -2 (A)
Elongation MD/CD, aged*
EN 13859-1 (A) / -2 (A)
40 % / 50 %
EN 13859-1 (A) / -2 (A)
Nail tear resistance MD/CD
EN 13859-1 (B) / -2 (B)
170 N / 220 N ; 38 lbf / 49 lbf
EN 13859-1 (B) / -2 (B)
*) Durability after artificial ageing at 100 °C ; 212 °F
EN 1297 / EN 1296
passed
EN 1297 / EN 1296
Flexibility at low temperature
EN 1109
-40 °C ; -40 °F
EN 1109
Temperature resistance
permanent -40 °C to 100 °C ; -40 °F to 212 °F
Thermal conductivity
0.04 W/(m·K) ; 0.3 BTU·in/(h·ft²·°F)
CE labelling
EN 13859-1/-2
yes
EN 13859-1/-2
---
---
Building projects with SOLITEX ADHERO