Flame retardant wall lining membrane for gap decking up to 30 mm (1 1/4")
connect variant with self-adhesive zones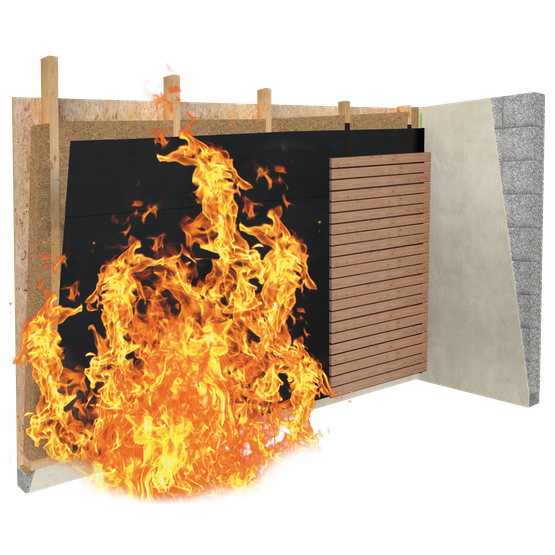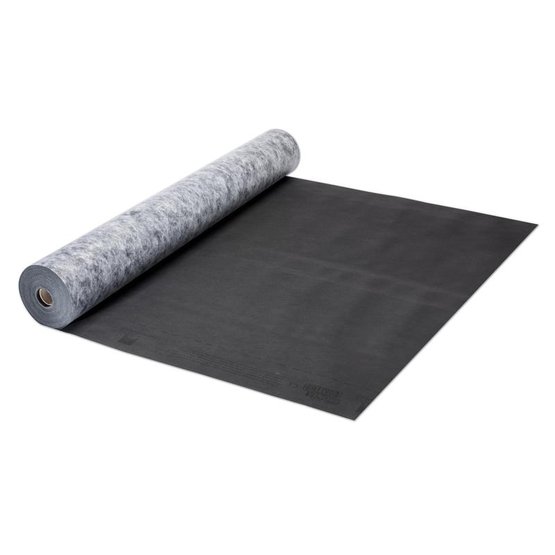 Advantages
More security: flame-retardant B-s1, d0
Ensures reliable building components: highly permeable and, at the same time, maximum protection against driving rain
Not visible behind gap decking: black fleece with identification marking in the overlap area
Highest possible durability and thermostability thanks to the monolithic membrane
2 months of outdoor exposure
Areas of Application
For use as a wall lining membrane behind closed and open facades (gap decking, up to a gap width of 30 mm / 1 1/4" - decking width = at least 3 x gap width). Installation on boarding, wood-based panels and all mat or panel-shaped thermal insulation materials.
Planning and installation instructions
Areas of application
The robust structure of SOLITEX FRONTA QUATTRO FB makes it an ideal wall lining membrane.
It can be installed as an exterior sealing membrane directly onto wall studs or insulation and as a wall lining membrane onto cladding made of solid wood or wood-based panels.
It prevents the flow of cold external air close to the surface of back-ventilated structures and ensures that the thermal insulation works in an optimal manner.
Driving rain and gap decking
With its very high resistance to driving rain and extremely high tear resistance, SOLITEX FRONTA QUATTRO FB fulfils demanding requirements relating to protection of building structures during the construction phase and can be subjected to outdoor exposure for up to 2 months.
Active diffusion transport through the monolithic membrane ensures permanently dry building components.
The membrane can be used behind gap decking with a maximum gap of 30 mm (1 1/4") and with a minimum of 20 mm (7/8") of back ventilation.
The exterior cladding must be at least three times as wide as the gap.
No rear ventilation of the insulation layer is necessary
Rear ventilation of insulation materials is not required as a result of the high diffusion permeability of pro clima SOLITEX FRONTA QUATTRO FB.
pro clima SOLITEX membranes can be applied directly onto the thermal insulation in all cases, i.e. the insulation material can fill the full depth of the structure.
Increased indoor humidity
This highly permeable membrane allows moisture to dry out of the structure to the outside more easily and more quickly.
This is advantageous both during the construction phase and during normal use (when moisture from indoor air penetrates into the structure by diffusion or convection).
As a rule, moisture due to construction work should be able to escape the building structure quickly by ventilation through open windows.
Dryers can help to speed up the drying process in wintertime.
This helps to avoid permanently high levels of relative humidity.
No tent effect
The pore-free SOLITEX FRONTA QUATTRO FB membrane offers particularly good seal tightness against driving rain.
The membrane can be applied over the surface of insulation materials or roof decking.
A tent effect is reliably prevented by the monolithic functional film and the multi-layer structure.
The term 'tent effect' describes the phenomenon whereby waterproof tent sheets allow large amounts of moisture into tents at points where they are in contact with inside objects.
Note
If you have questions relating to planning and construction, please contact the pro clima Engineering Hotline.
---
---