Reinforced hydrosafe® high-performance vapour retarder, suitable for all fibrous insulation materials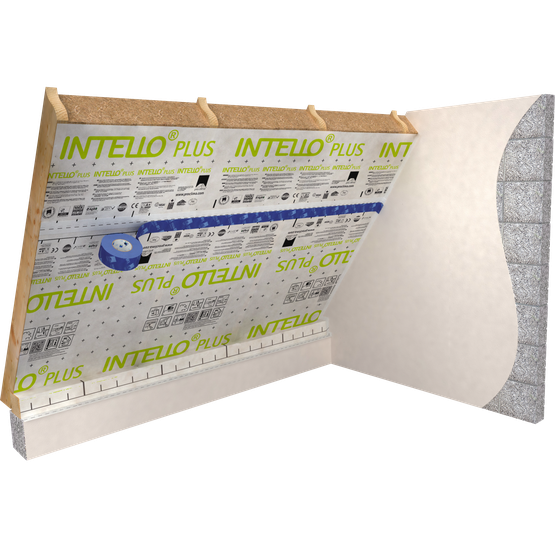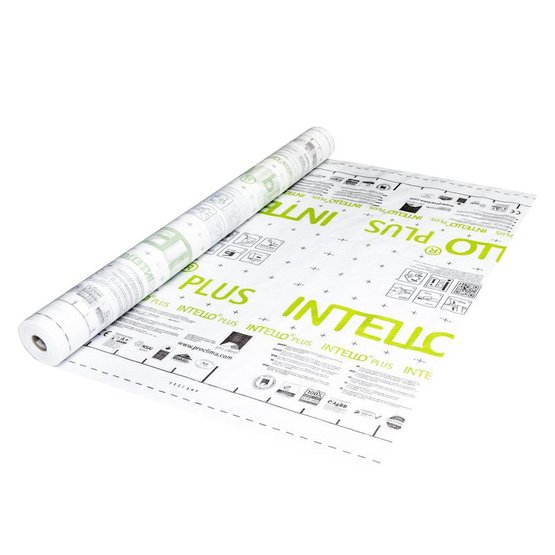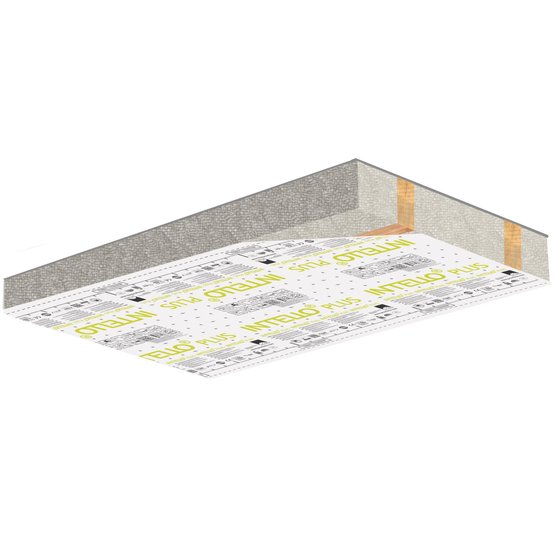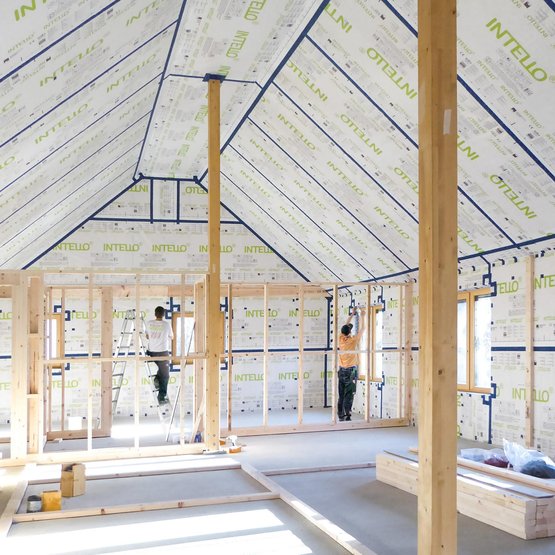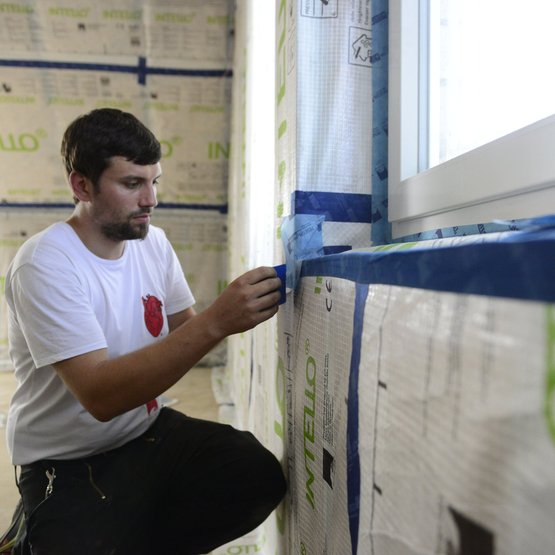 Advantages
Best possible protection against damage to structures and mould because this product is humidity-variable with a variation of a factor of over 100
Test winner in April 2012 with the German product-testing foundation 'Stiftung Warentest'
Permanent protection: officially tested and certified performance (ETA-18/1146)
Protected winter building sites thanks to hydrosafe® behaviour
Can be combined with all fibrous insulation materials (including blown-in insulation)
Easy to work with: dimensionally stable, no splitting or tear propagation
Excellent values in the hazardous substance test, has been tested according to the ISO 16000 evaluation scheme
Areas of Application
For use on roofs, walls, ceilings and floors on structures that are open or closed to diffusion on the exterior, e.g. flat/steep roofs and green roofs, after appropriate design calculations.
Planning and construction guidelines
Areas of application
The vapour retarding and airtightness membranes INTELLO and INTELLO PLUS can be used as an inner boundary for thermal insulation:
in roofs, walls, ceilings, and floors
in residential and commercial buildings with temporary increased levels of humidity
in residential buildings or buildings with residentiallike use in all rooms such as living rooms and bedrooms, kitchens and bathrooms
in external permeable and external impermeable structures
in the event of high indoor air quality requirements
Application in complex or demanding structures
By global standards, the INTELLO PLUS system also offers a particularly high level of potential freedom from struc- tural damage for critical structures that are externally impermeable such as pitched roofs having a metal covering and sub-roofs made from bitumen roof sheeting, for flat roofs, green roofs etc. – even in locations with an extremely cold climate.
Detailed information on the physics of thermal insulation is given in the study »Calculating potential freedom from structural damage of thermal insulation structure in timber-built systems«.
Use of fibrous insulation materials
The high degree of protection against structural damage offered by humidity-variable vapour retarders is achieved by using fibrous thermal insulation materials that are open to diffusion, as the moisture must be able to diffuse through to the vapour retarder for the purpose of drying during the summer climate.
Fibrous thermal insulation materials such as cellulose, flax, hemp, wood fibre and rock or mineral wool are ideal here.
Can also be used for diffusion-impermeable roof linings
The pro clima INTELLO system can be used with all commonly available diffusion-permeable underlays and diffusion-impermeable roof linings.
Underlays made of wood fibreboards are advantageous from an energy viewpoint.
In certain cases, structures must fulfil the requirements for exemption from proof of performance in the relevant standard with regard to moisture protection or must be measured using a suitable calculation method (e.g. time-dependent calculation methods).
Use of diffusion-open interior cladding
To take full advantage of the potential of humidity-variable vapour retarders to provide protection against damage to structures, diffusion-open cladding should be installed internally relative to the vapour retarder – e.g. gypsum boards or wooden board cladding. Diffusion-inhibiting layers such as OSB or multi-layer wooden panels hinder drying out to the inside in summer.
Correct work process provides protection against condensation
The ideal time for installation is two weeks after the adjacent walls have been plastered. Check the moisture content of the wooden structure before insulating and sealing. Alternatively, installation is also possible before plastering is carried out.
To avoid condensation formation, the vapour retarder and airtightness layer should then be completed immediately after the installation of mat or panel-shaped insulation materials.
Blown-in insulation should be inserted immediately after airtight sticking of the membrane.
If necessary, carry out this work gradually in steps. This applies particularly to work carried out in winter.
Ventilate any increased relative humidity quickly and systematically.
Note for DIY enthusiasts
Install the vapour retarder together with the thermal insulation.
If the thermal insulation is left without a vapour retarder for a long period in winter, there is a risk of condensation formation.
Moisture due to normal use
The diffusion resistance of INTELLO has been chosen to ensure that there is a reliable vapour-retarding effect even in the case of high indoor humidity, which can occur in new buildings as a result of construction work or during short-term increases in relative humidity in bathrooms or kitchens, for example.
As a rule, moisture due to construction work must be able to escape the building quickly by ventilation through open windows.
Dehumidifiers can help to speed up the drying process in wintertime.
This helps to avoid permanently high levels of relative humidity.
Construction phase: Hydrosafe® value (70/1.5 rule)
A vapour retarder should have a hydrosafe® value of 1.5 m (g value: 7.5 MN·s/g ; 2.2 US perms) in order to protect structures against dampness even in the case of the increased relative humidity that can be present during construction work.
The hydrosafe® value specifies how well sealed a humidity-variable vapour retarder still is at an average humidity of 70 %. Average humidity of 70 % will be present if there is 90 % indoor air humidity and 50 % humidity in the space between the rafters, for example; this level of indoor air humidity can occur when installing screed or plastering walls. The requirement that sd should be > 1.5 m (g value: 7.5 MN·s/g ; 2.2 US perms) and < 2.5 m (g value: 12.5 MN·s/g ; 1.3 US perms) comes from the German wood preservation standard and is described in further detail by the 70/1.5 rule.
INTELLO fulfils these requirements reliably.
Quality assurance
Airtightness is the critical factor in protecting the thermal insulation structure against damage.
pro clima recommends that the airtightness layer be checked for leaks and that any leaks be located and rectified using a blower door test, for example.
Proof of durability
There is currently no standard that contains a validation procedure for testing the behaviour and durability of humidity-variable properties. Only vapour retarders with constant diffusion resistances can be tested in accordance with European standards (EN 13984), for example.
For this reason, the durability of the humidityvariable behaviour of INTELLO and INTELLO PLUS has been demonstrated according to a procedure specified by an independent committee of experts of the German Institute of Construction Engineering (DIBt).
As part of this testing, the two vapour retarders were subjected to accelerated ageing with significantly more demanding conditions (increased temperature and doubled ageing period) as compared with EN 13984. In addition, the permitted deviations of the aged diffusion resistances from the unaged diffusion resistances have been made significantly more demanding in this evaluation as compared to the European standard.
With the European Technical Assessment (ETA-18/1146), INTELLO and INTELLO PLUS have proof of the durability of the humidity-variable properties.
Note
If you have questions on applications, please contact the technical-support.
---
---